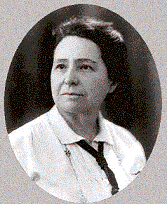 Alexandra David- Néel (1868-1969) was an exceedingly courageous, adventurous woman who blazed trails both physically and symbolically throughout her century-long life.  In fact, she was the first Anglo woman to reach Lhasa in Tibet, and inspired the progenitors of the Beat generation.
She was born and raised by a Calvinist father and Catholic mother in France at the end of the 19th Century, and is said to have started running away from home nearly from the time she could walk.  The young Alexandra could sense adventure beyond the horizon, and longed to experience her share of it.
"I cried bitter tears more than once, having the profound feeling that life was going by, that the days of my youth were going by, empty, without interest, without joy. I understood that I was wasting time that would never return, that I was losing hours that could have been beautiful. My parents – like most doting parents who have raised, if not a large eagle, at least a diminutive eaglet obsessed with flying through the air – could not comprehend this in the least and, although no worse than others, they did me more harm than a relentless enemy."
Her long life was entirely devoted to exploration and study, the two overriding passions that made her unruly in her childhood, rebellious in her adolescence, anarchist in her youth, and one of the wisest 'free thinkers' of the 20th century in her old age1 In her early adulthood she traveled as much as she could around Europe, studying Theosophy, Sanskrit, Buddhism, the Koran, and joined a variety of secret societies; including that of the Freemasons, in which she reached the thirtieth degree.  But she still felt wanderlust in her bones, and a longing for wild open spaces.  It's said that when traveling she invariably picked the longest itinerary and the slowest means of transportation.
She did marry a man, Philip Néel, a railway engineer in Tunis, and tried to devote herself to married life.  But after a very few short years it was clear that domesticity was not in her nature, and he agreed to support her financially in a venture across the continent to India.  Nonetheless the two remained very dear friends for the remainder of their lives, such that she wrote in a letter to him, "I believe you are the only person in the world for whom I have a feeling of attachment but I am not made for married life."
While she traveled throughout India and China, she learned the Tibetan language in a variety of Buddhist monasteries, and persuaded herself that she needed to experience Tibet itself in spite of the prohibition set by the British Empire against access by foreigners to the holy city, vowing to "reach Lhasa and show what the will of a woman could achieve."2 The Fourteenth Dalai Lama wrote in his foreword to her book, My Journey to Lhasa, "Not only were independent woman travelers like her unusual, but Europeans versed in Sanskrit and Buddhist philosophy, who also spoke Tibetan and could communicate with those they met, were extremely rare."
Her life is a fascinating one, and fortunately is recounted in her over thirty (30!!) books on the subject, which she wrote in her retirement in a French chateau.  As a woman who followed her own instincts and desires rather than kowtowing to anyone else's expectations, and who applied her physical, mental and emotional bodies to support that of her spiritual, Mme. David-Néel definitely deserves her position among the pantheon of Alpha Babes.